Since 2003, Vinitech has been providing innovative IT Security solutions to solve the most challenging dilemmas experienced by our clients.
Combining unparalleled experience, a diverse business practice, and a team of subject matter experts, Vinitech partners with clients, assisting them to reach and surpass their IT Security goals. Vinitech's diversified IT Security solutions strategy utilizes technology expertise and past successes while capitalizing on our team's innovative approach to meeting the most complex IT Security requirements. Our value add is simple — we develop, deploy and maintain the most sophisticated technology solutions on the market by combining cutting-edge technology and unparalleled service to provide an all-encompassing, holistic solution.
Vinitech's exceptional growth is the direct result of proven solutions, best-value, and customer service excellence.
Principals
Ginny Oyhenart – Chief Strategy Officer and Co-Founder: For over 17 years, Ginny Oyhenart has worked in the IT field, first as a database programmer in the late 90's and later moving into a sales/consultant role specializing in security solutions selling and IT planning. She's worked extensively at the CIO and CISO levels of major commercial entities, non-profits, and Federal, State & Local Government agencies assisting with the planning and maintenance of the 3 – 5 year IT vision. Ms. Oyhenart is currently responsible for managing Vinitech's security vendor partnerships and specializes in security solution strategies (products and services), CIO budget planning and vendor contract negotiations.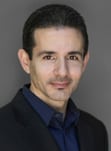 Nick S. Grivas – President and Co-founder of Vinitech, Inc., has more than 26 years of experience assembling, mentoring, and managing successful IT engineering and sales teams. In his role as President, Mr. Grivas works extensively with clients and vendor partners, reiterating Vinitech's role as a trusted advisor for IT solutions. His diverse technical and product knowledge has enabled Vinitech and its employees to create and maintain many successful relationships within the Public and Private Sectors.
Michael Messick – Sales Manager: Mr. Messick has over seven years of experience within the information technology industry, specializing in security, storage, and networking. Michael joined Vinitech in 2012 and has since worked with customers in nearly every vertical within the Public and Commercial Sectors. As Sales Manager, he is responsible for and oversees a team of sales representatives tasked with providing solutions for IT needs within all industries. Mr. Messick was previously with immixGroup (Arrow), where he specialized in McAfee security solutions within the Department of Defense and Civilian marketplaces. Michael is a graduate from Virginia Tech and the Pamplin School of Business with a BS in Business Economics and Management.