Since 2003, Vinitech has been providing innovative IT Security solutions to solve the most challenging dilemmas experienced by our clients.
Combining unparalleled experience, a diverse business practice, and a team of subject matter experts, Vinitech partners with clients, assisting them to reach and surpass their IT Security goals. Vinitech's diversified IT Security solutions strategy utilizes technology expertise and past successes while capitalizing on our team's innovative approach to meeting the most complex IT Security requirements. Our value add is simple — we develop, deploy and maintain the most sophisticated technology solutions on the market by combining cutting-edge technology and unparalleled service to provide an all-encompassing, holistic solution.
Vinitech's exceptional growth is the direct result of proven solutions, best-value, and customer service excellence.
Principals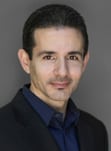 Nick S. Grivas – President and Co-founder of Vinitech, Inc., has more than 26 years of experience assembling, mentoring, and managing successful IT engineering and sales teams. In his role as President, Mr. Grivas works extensively with clients and vendor partners, reiterating Vinitech's role as a trusted advisor for IT solutions. His diverse technical and product knowledge has enabled Vinitech and its employees to create and maintain many successful relationships within the Public and Private Sectors.

Carmen Felder – Director of Operations: Disabled Air Force Veteran with over 10 years of experience, working with joint military units. Ms. Felder received her Master's Degree in Government Acquitions at the top of her class. She works closely with leadership providing strategies, leadership, and day-to-day management of the Business Development and Inside Sales teams inclusive of infrastructure, software, hardware, networks, and security. She develops and maintains the company's strategic road map, ensuring information technology capabilities continually support the overall business's goals and objectives. She builds a collaborative culture within the company and fosters successful relationships with partnered vendors.